A Heart of Stone
by Renate Dorrestein, translation by Hester Velmans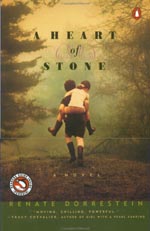 A Heart of Stone is Renate Dorrestein's first book to be translated into English. It tells a darkly humorous, yet ultimately compassionate tale of her character, Ellen Van Bemmel, who plunges us into the past as she leafs through a faded photo album and confronts the literal and figurative ghosts of her childhood. The story seamlessly alternates between past and present, taut with Hitchcock tension and warmed by a redemptive love story.
Hester was awarded the the Vondel Prize for Translation for A Heart of Stone. She continues her critically acclaimed translation of the popular Dutch author Renate Dorrestein in A Crying Shame, a heartrendering story of the a hostile and troubling family life for two children who stow away in a stranger's automobile. The compelling emotional style of A Crying Shame is also found in Hester Velmans' previous translation of Dorrestein's Without Mercy, a heartbreaking yet strangely funny, thought-provoking, and compelling novel about guilt and grief.
Order this book from amazon.com

About the Author

Hester Velmans is well known for her translations from Dutch into English of works by Renate Dorrestein, Lulu Wang, Isabel Hoving, and Jacqueline van Maarsen. Velmans was awarded the Vondel Prize for Translation for Renate Dorrestein's A Heart of Stone and her translation from French into English of Bernard du Bucheron's award-winning The Voyage of the Short Serpent has attracted great attention. Velmans' first sole creation, Isabel of the Whales, is a book written for children with the idea of empowering young girls and boys to influence the natural world. It is followed by Jessaloup's Song which reunites the two principal characters in a second ecological fantasy adventure.