The Dream Merchant
by Isabel Hoving, translation by Hester Velmans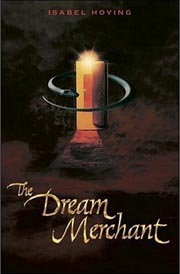 The Dream Merchant by Isabel Hoving is winner of the Netherlands' most prestigious children's book award. As a fantasy full of action and adventure, this book sweeps readers along on a riveting journey through a reimagined past. Trapped in a place between dream and reality, the book's heroes find their way back through a trail that leads them right into the very heart of the human imagination and to the furthest ends of time itself.
The principal character is an average twelve year old boy named Josh, who is something of a dreamer and who sometimes steals things. Together with his friend Baz, the boys are teamed up with Theresa at an old company that has discovered how to sell fantastic goods and concepts through our collective unconsciousness. Whenever the three children fall asleep, they are transported into the dream world that has been created by the company and soon discover that they are trapped there, haunted by nightmarish monsters.
During their journey back to the dawn of time to find the magical tembi, Josh and his friends must each make a momentous decision or slay a private demon before returning home, while two company employees seek to use them for their own personal gain. It is a modern fairy-tale that sets greed and selfishness against the search for truth and reconciliation.
The imaginative style translates well into the English edition. It is a fascinating read, with a rich plot filled with interesting characters who catch your attention, acting out their dreams in far out and imaginative places.
Order this book from amazon.com

About the Author

Hester Velmans is well known for her translations from Dutch into English of works by Renate Dorrestein, Lulu Wang, Isabel Hoving, and Jacqueline van Maarsen. Velmans was awarded the Vondel Prize for Translation for Renate Dorrestein's A Heart of Stone and her translation from French into English of Bernard du Bucheron's award-winning The Voyage of the Short Serpent has attracted great attention. Velmans' first sole creation, Isabel of the Whales, is a book written for children with the idea of empowering young girls and boys to influence the natural world. It is followed by Jessaloup's Song which reunites the two principal characters in a second ecological fantasy adventure.