A Woman Unknown - Voices from a Spanish life
by Lucia Graves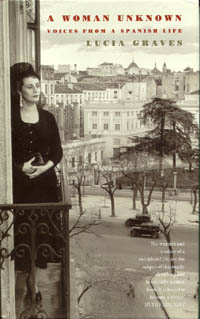 Emerging from the shadow of her illustrious father, Lucia Graves shares a captivating autobiographical portrait of life in Spain in A Woman Unknown. A Woman Unknown traces Lucia's childhood on the island of Majorca during the Franco dictatorship, her studies in Geneva and Oxford, and the later years spent raising a family in Catalonia
Both at one with the people of Spain and apart, Lucia found herself continually bridging the gaps between Catalan, Spanish and English, as she picked up the patterns and nuances that contain the essence of each culture.
"Although many English writers have opened windows on Spain ...none has done it so intimately and so personally as Lucia Graves. This is a book of high literary achievement and extraordinary humanity." TLS
"Her memoir is layered, just as she is, echoing the struggles of a divided people to become whole again." The Daily Telegraph
"A highly revealing account, not only of a woman's life, but of a whole extraordinary passage in one contemporary European country... it should be read by everybody interested in Spain and in women's special history in the present century." Financial Times
Order this book from amazon.com

About the Author
Lucia Graves has performed literary translation for twenty five years, publishing over thirty volumes, mostly from English into Spanish or Catalan and also translating works into English, including The Columbus Papers. A Woman Unknown is her first original work, followed by The Memory House, a novel, first published in Spanish as La Casa de la Memoria. Her latest translation, The Shadow of the Wind by Spanish writer Ruiz Zafón, is an internationally acclaimed bestseller.