The Memory House
by Lucia Graves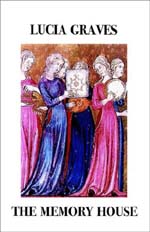 The Memory House is the first novel by Lucia Graves. It is based on the expulsion of Jews from Spain in 1492 and tells the story of Alba de Porta who lives contentedly with her mother Regina in a large old house in the Jewish quarter of Girona, on the northeast coast of Spain. Raised by her grandfather, an enlightened Rabbi who instilled in her the rudiments of Jewish mystical thought, Alba undertakes to preserve an important religious text when her family is expelled from Spain by Monarchs' decree. Prevented from carrying the text with her, Alba is asked to memorise it in order to ensure its safe exit from Spain.
She uses the architecture of her family home as a memorising aid to retain the words of the book in her mind; thus, when she leaves, she also takes with her the house of her ancestors and its entire contents on what proves to be an eventful and difficult journey, crossing the Pyrenees into Southern France, then travelling on to Italy and finally reaching the Ottoman Empire. The memorised book plays a fundamental role in Alba's story: it guides her through the labyrinth of life, love and death and at the end of the journey is the key that will open the door of her past and reveal an unexpected secret.
Order this book from amazon.com

About the Author
Lucia Graves has performed literary translation for twenty five years, publishing over thirty volumes, mostly from English into Spanish or Catalan and also translating works into English, including The Columbus Papers. A Woman Unknown is her first original work, followed by The Memory House, a novel, first published in Spanish as La Casa de la Memoria. Her latest translation, The Shadow of the Wind by Spanish writer Ruiz Zafón, is an internationally acclaimed bestseller.