Canvas Sunsets Never Fade
by Andre Frieden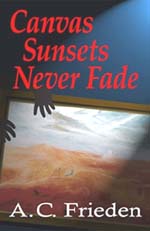 Murder and espionage set the stage in Andre Frieden's Canvas Sunsets Never Fade. Blending the popular genres of mystery, intrigue, and romance, his first novel breaks the stereotypes so often associated with suspenseful thrillers to deliver a captivating story to his readers.
His main character, Richard Nash, reveals a dimension that is less than superhuman, while demonstrating his own natural imperfections and general affability. While pursuing the plot, he discovers a series of clues pointing to a frightening and utterly sinister conspiracy. Sometimes viewed as utterly naive, the main character of this book offers a refreshing sense of realism in an emotionally gripping situation.
Order this book from amazon.com

About the Author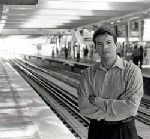 Andre Frieden draws his unique talent from a background as an attorney, a molecular biologist, an adjunct professor, a pilot and an army marksman. With two more novels soon to be published, Andre Frieden is set to become a well-known author of popular fiction. Born in Senegal, Andre is Swiss and Brazilian, and has lived in Africa, Europe, Asia, and America.