The European Parliament's Role in Closer EU Integration
by Richard Corbett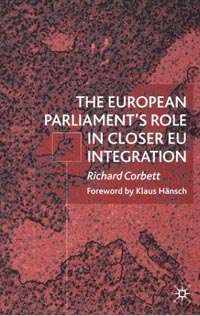 European integration has progressed during a half century, with its Parliament becoming an integral part of this process during the last two decades. The European Parliament's Role in Closer EU Integration, based on the Corbett's doctoral thesis, explores the impact that this elected body has had on the process of European integration.
The book begins by defining what is actually meant by European integration, examining the theoretical framework around which numerous treaties and institutions are based. Corbett goes on to describe the original intentions for establishing an elected Parliament to become part of the process of political and economic integration.
The European Parliament has undertaken to achieve institutional reform within the European Union. This book describes the Parliament's efforts to revise existing treaties and its influence on the creation of new treaties including the Single European Act, the Treaty of Maastricht, and the proposed European Constitution. The role of elected representatives is examined, in part to determine whether new political relationships have been created within the European body, and what influence European parliamentarians have had on the respective member states and European institutions.
In addition to performing traditional legislative roles, the European Parliament exerts significant influence on the development of Europe's constitutional system. As Europe continues its journey towards closer integration, its Parliament is the key to maintaining momentum along this route by strengthening its role within the European community as a whole.
Addressing this continuing evolution, The European Parliament's Role in Closer EU Integration is a comprehensive examination of the Parliament's influence in the successive renegotiations of European treaties and its proposed constitution. The book also considers the development of current European policies through the parliamentary process. Richard Corbett assesses the practical achievements of the European Parliament twenty years after it was first conceived, comparing these achievements to those that were originally envisioned.
Having participated in the process of drafting the Treaty of Maastricht, the Treaty of Amsterdam, and the proposed European Constitution, Richard Corbett offers valuable first hand knowledge of one of the most complex and multifaceted ongoing political processes of our time, that of European integration.
Order this book from amazon.com

About the Author

Richard Corbett is the Member of the European Parliament for Yorkshire and Humber. He serves as Deputy Leader of the Labour MEPs and is the party spokesperson on the Constitutional Committee of the European Parliament. Richard has been active in European politics for more than 30 years, being directly involved with many of the key transformations of the European Union during a period of unprecedented expansion.