The Great Pint-Pulling Olympiad
by Roger Boylan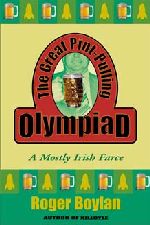 Roger Boylan's second novel The Great Pint-Pulling Olympiad continues the uproarious saga of the hapless inhabitants of Killoyle, through the frenetic week of the Pint-Pulling Olympiad. "With a wink and a nudge, Boylan's pyrotechnic prose brings to life Ireland at its manic extremes, proving the author a dazzling and distinctive talent in American fiction." As richly captivating as its predecessor, The Great Pint-Pulling Olympiad is witty and erudite and comes complete with the deftly crafted clever details and footnotes. If you have been searching for a book that is both hilarious and literary, you will definitely find it here.
Order this book from amazon.com

About the Author

Roger Boylan's roots are in Ireland and the New York area. After attending the University of Ulster and the University of Edinburgh, he worked as a translator, computer technician, teacher, and book editor. His stories and articles have appeared in various journals, including The Literary Review, The Recorder, and The Austin American-Statesman, and he is a regular contributor to Boston Review's New Fiction Forum.