Killoyle, An Irish Farce
by Roger Boylan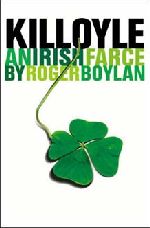 For pure reading pleasure, Roger Boylan's first novel Killoyle is a treat to be savored. A delightful satire of life in an Irish village, Killoyle follows the lives of the town's inhabitants, touched by drink, religion, and more than a touch of blarney. Alternating between despair and hilarity, sophistication and slapstick, Boylan's unpredictable, spontaneous flashes of merriment keep the reader entertained throughout. Killoyle wildly celebrates the great Irish tradition of laughter amid despair.
Boylan rises to the challenge of doing something original with a novel, in the spirit of the great Irish novelists James Joyce, Flann O'Brien, and Samuel Beckett. This wacky tale is fleshed out with acerbic, opinionated, hilarious footnotes addressed directly to the reader, that rudely comment upon the characters and numerous other subjects. The reader is treated to a virtuoso of language by the author who appears to write for the pure pleasure of doing so.
Order this book from amazon.com

About the Author

Roger Boylan's roots are in Ireland and the New York area. After attending the University of Ulster and the University of Edinburgh, he worked as a translator, computer technician, teacher, and book editor. His stories and articles have appeared in various journals, including The Literary Review, The Recorder, and The Austin American-Statesman, and he is a regular contributor to Boston Review's New Fiction Forum.