Secrets : On the Ethics of Concealment and Revelation
by Sissela Bok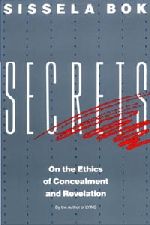 Secrets : On the Ethics of Concealment and Revelation continues the discussion of ethical issues in public and private life. Making the distinction between secrecy and privacy, Sissela Bok defends the need for both while illustrating differences between secrets which are desirable, such as the need to preserve surprise, and those which are harmful and self-destructive.
Self-deception is discussed together with other types of secrecy, in a thought provoking analysis citing work by Freud, Sartre, and Orwell. This book enables readers to consider the matter of secrecy in a new light, exploring an ethical issue that affects everyday situations. It reveals the need for everyone to discover how far they are willing to go to stay honest with themselves as well as those with whom they interact on a daily basis.
Order this book from amazon.com

About the Author

Sissela Myrdal Bok is Senior Visiting Fellow at the Harvard Center for Population and Development Studies and a Fellow of the American Academy of Political and Social Science. A former member of the Pulitzer Prize Board, she serves on the editorial board of the Bulletin of the World Health Organization, and on the boards of Common Knowledge, and Ethical Theory and Moral Practice. During her distinguished academic career she has published a series of books based upon the ideals of universal human values. Sissela Bok received the George Orwell Award and the Melcher Book Award for Lying : Moral Choice in Public and Private Life. Widely respected as a modern philosopher, Sissela originally read psychology at university, in deference to the wishes of her mother Nobel Peace Laureate Alva Myrdal. Being the daughter of two Nobel Prize winners, with her father Gunnar Myrdal awarded the Nobel prize for economics, Sissela Myrdal Bok offers a rich intellectual perspective in her own work.