Mayhem: Violence As Public Entertainment
by Sissela Bok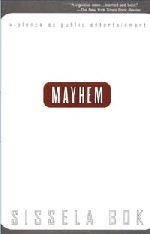 Mayhem: Violence As Public Entertainment takes on the issue of long-term exposure to media violence and its effect on America's national character. With no easy answers to this vexing issue, Sissela Bok reassures the public that the amount of violence portrayed in mass media affects its audience in different ways, representing only one factor that contributes to violence in society at large. Her study is based upon a historical review of violence in entertainment beginning with gladiatorial combat in the Roman circus and ranging through Renaissance theater to more recent television programming. The historical context helps to explain public fascination with violence in entertainment and steers the debate towards finding more constructive resolutions for mitigating the effects of violent entertainment on the public consciousness.
This book represents a fair-minded analysis which favors an approach that encourages more critical thinking amongst the audience for media violence by improving media literacy programmes and by helping young viewers play a more active role in evaluating what they see. Bok offers no easy answers to the questions of media regulation and censorship in response to media excesses, yet she makes an important contribution to the debate in formulating strategies for reducing the impact of violent entertainment.
Order this book from amazon.com

About the Author

Sissela Myrdal Bok is Senior Visiting Fellow at the Harvard Center for Population and Development Studies and a Fellow of the American Academy of Political and Social Science. A former member of the Pulitzer Prize Board, she serves on the editorial board of the Bulletin of the World Health Organization, and on the boards of Common Knowledge, and Ethical Theory and Moral Practice. During her distinguished academic career she has published a series of books based upon the ideals of universal human values. Sissela Bok received the George Orwell Award and the Melcher Book Award for Lying : Moral Choice in Public and Private Life. Widely respected as a modern philosopher, Sissela originally read psychology at university, in deference to the wishes of her mother Nobel Peace Laureate Alva Myrdal. Being the daughter of two Nobel Prize winners, with her father Gunnar Myrdal awarded the Nobel prize for economics, Sissela Myrdal Bok offers a rich intellectual perspective in her own work.