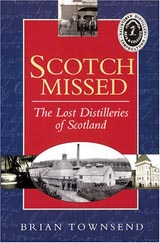 Scotch Missed :
The Lost Distilleries of Scotland
From amazon.com: A journey into the whisky industry's Victorian past and what little remains of it. Some 80 distilleries have vanished under car parks, carpet stores, apartments and restaurants. This is a tribute to lost drams.
"Scotch Missed" is a highly informative book on scotland's lost whisky distilleries, including those which have closed in recent years and whose whiskies can still be found in specialist shops or the occasional liquor store that doesn't realise the gems it has on its shelves. Definitely a must for the whisky enthusiast looking for a dram of a book.
The vast distilling complexes which grew up in Dublin in the 18th and 19th centuries such as Bow Street, Thomas Street and John's Lane were revisited in this nostalgic journey by whiskey historian and journalist Brian Townsend. A picture emerges of an island once awash with distilling plant but which now can only boast activity at Midleton in County Cork, Old Bushmills in County Antrim and Cooley Distillery at Dundalk.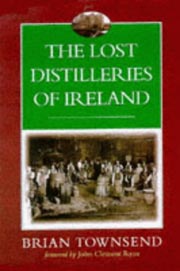 The answers to Ireland's decline in distilling heritage are to be found in the pages of this book which looks at over 25 of the larger distilleries that managed to survive through the better part of the 19th century as well as some 15 smaller ones such as Burt, Westport, Shee's and Dodder Bank.
Scotch may now be the most popular whisky in the world, but over a century ago, it was Irish whisky which was most commonly drunk. Today, only three producing units exist: at Midleton, County Cork; Bushmills, County Antrim; and Cooley at Dundalk, County Louth. The author of this work has researched the lost distilleries of Ireland and details what happened to them. He relates the origins of distilling in Ireland - an Arabic hand-down to Irish monks; the links with Scotland; the wild years when illicit distilling was rampant and shebeens proliferated as corruption increased; the coming of legitimacy and temperance; the development of Coffey still (and its contribution to the ultimate sinking of the industry); the golden years; prohibition in the USA and the emergence of the Free State in 1922. Each of the distilleries is listed and accompanied by archive photographs and etchings.