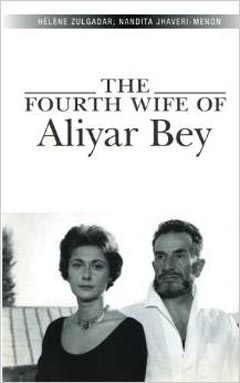 The Fourth Wife of Aliyar Bey
Nandita Jhaveri-Menon recounts the remarkable life of Helene Zulgadar. Helene was the daughter of White Russian emigrés who fled the Red army during the Bolshevik revolution along with many other Cossacks fighting with the Czar. Settling in Paris, they joined a large number of dispossessed Russian elite to begin a new life outside of their homeland. Drawing upon first-hand accounts recorded in Helene's personal diary, The Fourth Wife of Aliyar Bey weaves the tale of a beautiful and glamorous woman who embarks on a career as a fashion model before meeting Aliyar Zulgadar, an officer in the French Foreign Legion and himself an Azerbaijani emigré.
The author Jhaveri-Menon becomes part of the story, meeting Helene Zulgadar in retirement near Bordeaux in the west of France. A mutual friend convinces Nandita to write this extraordinary narrative, adding life to all of the personalities who were so intricately connected. Nandita's growing friendship with Helene leads to a visit to the final resting place of Aliyar Bey at Benalmádena near Malaga.
Aliyar, affectionately known as Zulu, lived in Paris for most of his childhood after his family was driven from Azerbaijan when the Red army occupied that oil-rich country during the Russian Revolution. The youngest of three children, Aliyar lied about his age to join the French Foreign Legion, serving in an elite cavalry unit in Tunisia and Morocco. After a number of years, his mother discovered Aliyar's whereabouts and used her influence to return him to Paris, only for him to be sent for his national service in Iran, a country that had earlier granted his family nationality. Despite his lack of the Farsi language, Aliyar eventually came to oversee the military training of the future Shah before war broke out once again in Europe.
Escaping Iran to rejoin his Foreign Legion unit in Syria, Aliyar saw action in the Middle East and in Europe during the second world war. He was later badly injured in Indochina during the battle for Dien Bien Phu, and was evacuated to a military hospital in Paris, where he meets his fourth wife, the lovely Helene. Together they continue to forge their mark on life, traveling overland to Tehran, running a popular restaurant there, before fleeing yet another revolution to return to France.
Nandita Jhaveri-Menon treats this tale of two extraordinary people with compassion, empathy, and a great sense of adventure. Her book delves into the human dimension of momentous events that shaped the world during the past century. Originally from India, Nandita read Modern Languages at Cambridge and worked as a translator for many years before moving to Cyprus.