Slow Cooked Thoughts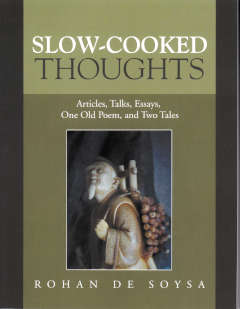 Rohan de Soysa reflects upon a lifetime of experience in a new collection of talks, essays, and articles recently published under the title Slow-Cooked Thoughts: Articles, Talks, Essays, One Old Poem, and Two Tales. Originally intended as a letter across generations, this thought provoking book conveys respect for life and the natural world, and a firm commitment to conserve our environment through a shared reverence for natural processes.
This theme recurs throughout a lifetime of written articles and public presentations that express a profound friendship with life on earth in all of its forms. Many articles cover the current state of the environment and effective approaches to conservation practiced in different countries around the globe. He acknowledges the detrimental effects of colonization, extraction, and other forms of environmental exploitation by emphasizing the need to pass along a reverence for the natural world to all future generations.
Rohan's former classmates will be delighted to read the chronicle of his road trip by automobile from London to Colombo, crossing a very large number geographic, national, and cultural boundaries along the way. Richly illustrated with 68 original photographs, Slow Cooked Thoughts also reflects de Soysa's talents as a photographer and as an art conservator.
Rohan, current Chairman of the Board of Trustees of the Sapumal Foundation, oversees the running of this charming old house. It was the home of master portraitist Harry Pieris who was the Secretary of the '43 Group, the first modern art movement in Sri Lanka. Harry had studied art in London and Paris, where he became a close friend of Matisse. A core group of ten artists, headed by photographer Lionel Wendt, founded the Group in 1943. Examples of work by each of them are among the 300 or so works on display. Harry, the founder chairman of the Sapumal Foundation, bequeathed the house and its art collection to the foundation when he passed on in 1988.