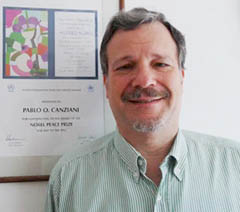 Cambio Global
La Humanidad Ante La Creación
Pablo Canziani is a Principal Researcher at CONICET (National Scientific and Technical Research Council) the primary organization for of the promotion of science and technology in Argentina. As a professor at the Instituto de Investigaciones Biomédicas at the Pontificia Universidad Católica Argentina (Pontifical Catholic University of Argentina), he conducts applied climate research and it impacts on production and agricultural systems in semi-arid regions of South America. With a doctorate in physics, Canziani specializes in physical chemistry of the atmosphere and weather. He has served on the Intergovernmental Panel on Climate Change and scientific committees of the World Climate Research Programme. Pablo is actively involved in the dialogue between faith and reason as a member of the Board of the Department of Laity of the Episcopal Conference Argentina.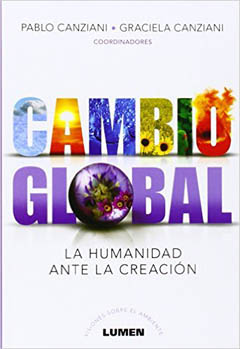 Cambio Global: La Humanidad Ante La Creación is a collection of critical research and articles relating to environmental issues from the perspective of science, history, governance and Social Doctrine of the Catholic Church. It examines the evolving relationship between mankind and the natural world, and the effects of human activities on ever changing natural systems.
The causes of serious environmental problems created by human activity are viewed in the context of prevailing socio-political culture, as well as the cultural influence of the Catholic Church in South America, as interpreted through the authority of "magisterium". Cambio Global argues that there is also a "socio-environmental" crisis, where the roles and responsibilities of individual citizens in addressing inequalities are the key to finding solutions to the very future of life on the planet.
The first volume in a collection entitled: Visiones sobre el Ambiente, Cambio Global opens with some reflections by Paul VI, John Paul II, Benedict XVI, and Francisco together with a foreword by Monseigneur Jorge Lozano. In seven chapters, the book describes the path of climate change, culminating with the current world crisis, as the conquest of nature has defined the evolution of humanity. It asks why humanity should care about the functioning of ecosystems, in light of the past two and a half centuries of growth that has changed the world. Whether this growth has been the result of a human reawakening or a real change in the nature of mankind, the final chapters conclude that we must work towards a change of heart that brings together spirituality with the natural environment.