A VILLAGE POSTMAN
At the end of last year our postman, Andy, reached the age of sixty and retired. He was born in the village and many remember him as a boy. Now on Sundays he goes round the church with the Host, and some of the oldest find it hard to keep a straight face. Nevertheless when he was a young man many thought he would follow his uncle into the church. He continued his studies after the obligatory attendance at the village school, one of the first to attend the new secondary school and learn Latin and Greek. Before it opened only the better off families could afford to send their sons to boarding school for further education. The girls had to wait another ten years before secondary education was available for them.
Andy's uncle died recently after devoting his life to the bush villagers of Central Africa but always retaining links with the village of his birth. Andy said he intended to continue his studies but felt the lack of money. So he took the examination to enter the Post Office and was sent to the big city where postmen were needed to do the rounds. At that time he did not think he would stay a postman for ever. His passion was singing and he still sings in the church choir and goes on singing courses. As a young man he founded choirs. He also knew men who worked as gardeners on the estates of the very rich such as the Rothschilds and supplemented his income by aiding them. Whenever he could he returned to his village, which is how he met his wife - on the train.
| | |
| --- | --- |
| | At last a post for a delivery man was made available in his village. There were four hundred applicants and only a handful when Andy retired. His replacement is a young man from another part of the country who has quickly settled in. |
The postmistress when Andy was a boy has just celebrated her ninety-fourth birthday. Her father-in-law was in charge of the first post office in the village. Her husband took over and then her son who has moved to a larger village in this time of reorganisation when most villages in the valley have lost their post office. Sophie lived until this year, when she finally entered the old folks' home, in the building which had been converted from a forge to make the post office and a lodging. She raised eight children in very cramped quarters and looked after her mother-in-law and a handicapped sister-in-law. When the post office was enlarged she lost part of her kitchen. She showed me where the window frame was worn away from passing parcels through it.A purpose built building was only added at the back less than twenty years ago. Everyone says that her husband could never have managed without her. He was too fond of the bistro, which Andy also likes to visit. The post had to be delivered to two villages and the outlying farms on foot and yet she found time to make beautiful drawn thread embroidery.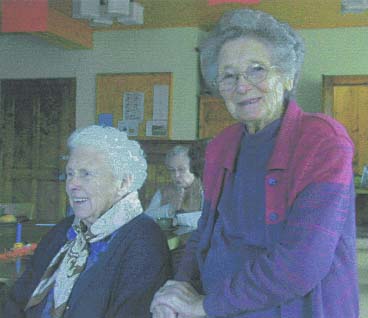 Sophie (standing) and Jeannette
her neighbour for sixty years
When Andy started over thirty years ago, the day still began by a walk of a mile to the station with a handcart to collect the letters and packages from the train. Then he acquired a bicycle and he ended with a motorized bicycle on which, after work, he liked to ride up the mountain to collect mushrooms. His last day we had had a heavy fall of snow. An article about him covered the back page of the local newspaper. His colleagues decorated his motorized bicycle . Everyone on his round gave him a present or slipped some money in his hand. It took a week for his voice to recover from all the talking and cigarette smoke.



aaj@bluewin.ch
11th February 2004